Hella Inc
DuraRAY3®
Product features
• High impact resistant Xylex® lens system
• Heavy-duty cast alloy base and cap for increased mechanical strength and vibration resistance
• Advanced self cleaning surface coating for optimal corrosion and UV protection
• ISO 13766-2006
• AS/NZS CISPR25 (Class III)
• Flame retardant to UL94HB
• Sealed to IP6K9K and pre-wired to prevent ingress of dirt and moisture
• 200G shock resistant
• Low EMC signature
• Low current draw
• Self-diagnostic electronics for protection against transient voltage spikes and reverse polarity
• LED Function color variants available (Amber, Red)

All HELLA Mining LED products are covered by a five (5) year warranty on light output, excluding environmental and physical damage.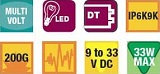 LED Rotating Beacons
HELLA's new DuraRAY3® ultra durable LED warning beacons usher in a new era of innovation, building on the award winning design of their predecessors. DuraRAY3® beacons are designed for mining and construction applications where the cost of equipment down time is large and safety is paramount.
Their cast alloy construction and the impact and chemical resistant Xylex lens enables DuraRAY3® beacons to survive much larger crush or impact loads than conventional optical beacons.
DuraRAY3® beacons offer excellent beam control to ensure very good penetration of fog and dust without blinding the operator through back scatter, whilst delivering high observability from a distance with minimal close-up glare.
Solid state LED beacons are gaining popularity due to their zero maintenance and long service life over conventional rotating beacons, particularly in harsh mining conditions.
The new range of DuraRAY3® LED warning beacons build on an award winning design with the addition of a new intelligent electronic control system combined with the latest generation of higher output LEDs. Higher EMC standard CISPR25 Class 3 certification improves safety and reliability with other electrical devices.
A new advanced non-stick surface coating developed specifically for HELLA Mining products actively prevents dirt build-up on the beacon an is resistant to acidic minerals and salts. The coating is bonded to the housing and will not peel or flake.
The Multivolt™ system allows for installation on machines that may have varying voltage outputs due to the load on the engine. The light output from the high emitting LEDs is not affected by this varying supply, with a range of 9-33 Volts DC.
The increased light output from the latest generation of LEDs ensures safety is not compromised.
By combining a cast aluminum housing with the latest generation Xylex® lenses, the DuraRAY3® is assured excellent long term resistance against cleaning chemicals, UV and impact damage for increased durability and long service life.
The DuraRAY3® beacons are fully sealed 'Fit and Forget' products that can be submerged and high-pressure washed from any direction. Product features Multivolt™ 9-33V DC.




Spare Parts & Options
9.HM9386.02
Installation Kit