DSI Mining Canada
Tunnel Finishes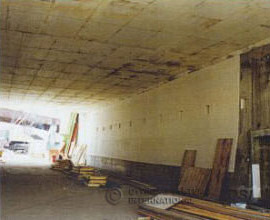 PROMAT Fire Protection Boards sandwich panels have been utilized in countless new and retrofit tunnel and underground construction projects worldwide.
Ease of installation and replacement, cost effectiveness, and superior performance have made this product line the premier choice of owners and designers for structural protection, fire-life safety requirements, and architectural finish needs.
PROMAT applications include the protection of the concrete tunnel linings with the boards utilized as part of the formwork or attached to existing concrete. Wall and ceiling applications have been successfully tested to all the important international hydrocarbon standards, including the most stringent RABT and RWS fire curves. Other assemblies meeting the standard ISO classifications ( E119, DIN, BS476,etc.) include ventilation ducts, cable trays, partition walls, and structural steel.

PROMAT autoclaved calcium silicate boards- being resistant to moisture, the effects of freeze-thaw and de-icing salts, and possessing excellent structural properties, easily handles the harsh environment and the design concerns of the underground construction sector.