Rajant Corporation
Canadian Mining Expo 2021
Event Details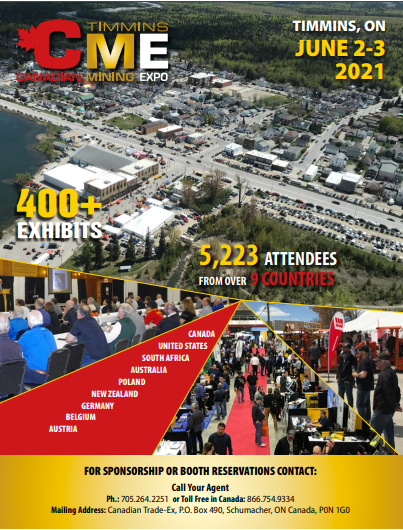 160 Active Junior Companies exploring in Ontario
Over 900 companies identified as mining suppliers in Ontario
Mining suppliers provide over 70,000 jobs in Ontario
There are over 40 producing mines in northern Ontario
The mining sector is the largest private sector employer of Aboriginal Canadians
Ontario is the leading producer of gold in Canada and second largest producer of copper
WHO WILL BE EXHIBITING
Equipment & Supplies
Access Road Building Equipment
Open Pit Equipment & Supplies
Underground Equipment & Supplies
Surface & Underground Drilling
Equipment
Exploration Equipment & Supplies
Diamond Drilling Equipment
Geological Surveying Equipment
Geophysical Equipment
Laboratory Suppliers
Tires
Service Groups
Geophysical Services
Remote Sensing-Mapping
Finance Companies
Analytical Services
Transportation Services Trucks
Insurance Companies
Research Organizations
Satellite Communications
Software Companies
Junior & Senior Mining Companies
Job Fair
Consultants
Law Firms
Others
Engineers
Government
Students
Universities
Colleges
Indigenous Groups
and more…
WHO WILL BE ATTENDING
Geology
Exploration
Chemical
Engineering
Communications
Aboriginal Reps
Construction
Consulting & Design
Contracting
Education
Environment
Financial Institution
Government
Maintenance
Materials Handling
Mineral Processing
Power Distribution
Power Generation
Process Control & Instrumentation
Telecommunications-IT
Transport-Distribution
Diamond Drilling
Students
Job or Career Seekers
and more…
BENEFITS OF EXHIBITING
Connect With The Right People Make valuable face-to-face connections with targeted buyers, suppliers, other business owners, and organizations. Timmins and the surrounding area are the most important Mining region in Ontario.
Network With The Best Meet and connect with your peers. Exchange ideas, establish relationships and alliances. On the other hand, you can see what your competition is up to.
Showcase & Demonstrate Your Products Show off your latest innovations and promote what you have to offer. Sell your
products to attendees who have come to see your best and latest offerings. You can demonstrate your products live at your booth. Customers want to TRY-IT-BEFORE-THEY-BUY-IT. Secure storage space is available so you can bring plenty of product to sell.
We Bring The Customers To You The Big Event was attended by over 5,000 delegates, and many of these people were
the decision makers for their business. Studies show that a trade show has the lowest cost per customer aquisition of any marketing method. Even better, you get to meet these people face-to face for added impact.
We Do The Marketing For You The Big Event has an ever expanding program of marketing to bring a targeted
audience to your booth. We use LinkedIn, Facebook, Twitter, YouTube, and other online methods.
Be Seen As An Industry Leader Being absent from the largest Mining Show in northern Ontario instantly makes you a
non-player in the field and puts your competitors top of mind with customers.
You Can Host An Information Or Networking Session Share your expertise on the topics that you are passionate about or host a networking session. Both will increase your reputation as an industry leader in the eyes of your peers and the public.
ADDITIONAL BENEFITS
Exhibit space:
Exhibit space can be reserved in the arena and outdoor grounds.
A standard indoor booth is 8 x10 (size can be customized) and will include minimum 50 complimentary passes (# of passes are based on exhibit package), an electrical outlet, curtain surroundings, a table, two chairs.
Outdoor exhibitors will be able to reserve space starting as small as 10x10 all the way up 50x50. Outdoor space can be customized to your needs. Complimentary passes are available, tents and electrical are add ons.
The Big Event Website presence:
Each exhibitor will have their company logo, booth location, show activity, company description and a link to their internal event pages included with the purchase of a booth.
Official show guide listing of products & services in Mining Life Magazine:
The exhibitor will get a company listing and description of products and or services they will have on display at the show in the Official Show Guide.
The guide will promote the Mining Industry and what the event has to offer the potential buyer of products and or services. For those wishing more extended coverage, advertorials and display ads are available for additional cost.
Extended Digital Presence:
The Big Event has built an awesome event platform. The platform will allow your company to expose your products and services and encourage engagement from the attendees.
Some of the tools will allow website users to stay connected, receive updates, see your show specials (a very popular feature), book appointments with you.
The tools built into the platform encourage engagement and communication between attendees and exhibitors.
Our event liaison will work with a member of your company and explain how your business can benefit from these tools.
MARKETING
The Big Event Will Be Promoted Through The Following Channels
Brochures which include gate passes to the expo will be printed
Posters
Press Releases and advertising in Trade Magazines
Direct mail, campaigns throughout trade partners, associations, organizations, and an industry database that targets the mining industry
Radio Broadcasting
Fax and email to targeted markets
Website Promotion – Banners & Links to national websites.
Social Marketing through LinkedIn, Facebook, YouTube, Twitter and others.
Exhibitor Introduction videos and ongoing posts on Facebook, Twitter and YouTube. Exhibitors can offer show specials that will be promoted on the website and social media.
Exhibitors will receive a bundle of free expo passes that they may distribute to their clients as promotions.
Mining Life Magazine: Official Show Guide Issue featuring a complete agenda of the event detailing the exhibitors and the benefits of participation as well as an overview of the area.
EXPOSURE YOU CAN COUNT ON!
The Canadian Mining Expo, Known as the BIG EVENT is a well recognized trade show in the mining industry.
Attracting international delegations and mines representing the central parts of Canada is what the event is all about.
Meet your clients or potential clients and expose your products and services to this very active mining region.
THE BIG EVENT
No other trade show offers onsite demos, presentations and Mine networking events along with over 400 displays.
It's a must see event in Canada!
EVENTS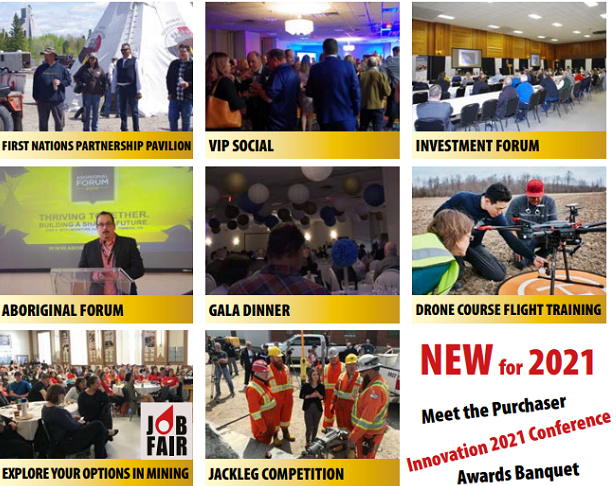 Join the Canadian mining industry and its partners for the week of June 1-3, 2021 in the sharing of information, networking and addressing the needs of a better global mining industry.
Canadian Mining Expo and its 400 plus exhibits welcome you.
Rajant Corporation
Rajant frees all network elements to move, interconnect, and intelligently adapt to change – instantly and without outside intervention – so you can keep mission-critical operations moving.
When
Wednesday, June 02 and 03, 2021
Add this to my calendar
Outlook
GOOGLE
Yahoo
iCal