Cooper Equipment
Chainsaw Safety
Event Details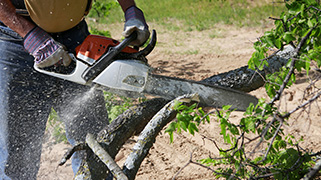 When you see the power with which a chainsaw can cut down a tree, it's not hard to understand why chainsaw operators must respect their tool. A healthy respect for and knowledge of your chainsaw's limits and hazards will help you effectively mitigate them and keep yourself and others safe.
Using live action demonstrations, animated diagrams, and interactive activities, this online Chainsaw Safety course provides you with the knowledge necessary to operate and control your chainsaw both safely and effectively. No matter if you'll be cutting trees or construction materials like HDPV pipe, this course covers the necessary preparations, safety measures, cutting techniques, and post-operational procedures you need to safely complete your work.
This online Chainsaw Safety course covers the following topics:
Chainsaw components and safety features
Types of chainsaws
Physical and site preparation for chainsaw use
Safety requirements for chainsaw use, including PPE
Hazard assessment, identification, and control
Pre-operational inspections and function checks
Chainsaw start-up methods
Cutting techniques and best practices
Post-operational maintenance and inspection
Chain filing
ONLINE COURSE DURATION
Approximately 75 minutes
PASS MARK
Testing conducted in this online course is designed to reinforce the information presented. A mark of 80% must be achieved in order to pass this course. The course is able to be taken three times in efforts to achieve the pass mark.
CERTIFICATE OF COMPLETION
Upon successful completion of this online course, a certificate of completion will be available for download and printing. This course is recommended to be retaken every 3 years from the course completion date indicated on the certificate.
UNIVERSALLY COMPATIBLE
This course was created using standards that will allow playback on most internet capable devices with standard web browsing capabilities including Apple's iTouch, iPad, and iPhone, as well as most other smartphones and tablets including those with Android and Windows operating systems.
Cooper Equipment
Cooper Equipment Rentals Ltd. is a full-service construction equipment rental company, servicing contractors across Canada. We specialize in the rental of compact, aerial and heavy construction equipment while providing a wide range of supplies, along with unparalleled service and support.
When
June 21, 2021 - June 21, 2025
Add this to my calendar
Outlook
GOOGLE
Yahoo
iCal