Minerals, Metals & Materials Society (TMS)
COPPER 2022
Event Details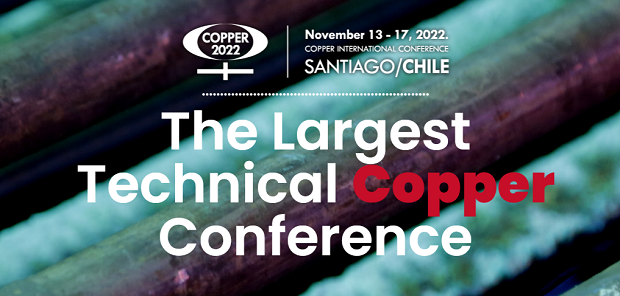 The success and outcome of the Copper Conference is the work of eight leading International Professional Societies (IIMCh, GDMB, MMIJ, TMS, SME, MetSoc, NFSoc and SAIMM) who tirelessly preserve in bringing forth symposia of the highest quality to the delegates.
Engineers, scientists, and copper fabricators and users from the entire world will meet at this conference, exchanging ideas, scientific innovation, and development. As usual, we will cover all the areas of the copper chain value in Plenary Lectures and nine Symposia. Besides, some Short Courses and Industrial Tours are being planned.
Important Dates

Technical Symposia Program
The Technical Committee is calling for the submission of abstracts for papers on any of the Conference's technical, scientific or economic themes for one of the following symposia:
Economics, Markets and Applications
Mineral Processing
Pyrometallurgy
Hydrometallurgy
Electrometallurgy
Sustainability
Process Optimization Through Innovation, Technology, Automation and Design
Waste Management and Circular Economy
Geometallurgy
Plenary Lectures
In addition to the technical symposia, there will also be plenary lectures every morning. The Plenary Lectures Speakers will be internationally well-known leaders in the Copper Industry and their lectures will focus on the major topics that impact the sector's future.
Short Courses
Short Courses are intended to show the state of art in different subjects relevant to the copper industry and research. These are scheduled on Sunday November 13, 2022.
Industrial Tours
Technical visits to different mining facilities located in the Central Valley and Northern Chile have been planned by the organizers. The visits are scheduled after the conference. All participants are invited to participate in these visits. The visits are in addition to the conference and require additional registration and payment.
Minerals, Metals & Materials Society (TMS)
The Minerals, Metals & Materials Society (TMS) is a professional association that connects minerals, metals, and materials scientists and engineers who work in industry, academia, and government positions around the world.
When
Sunday, November 13 - 17, 2022
Add this to my calendar
Outlook
GOOGLE
Yahoo
iCal