Canadian Institute of Mining
Conference of Metallurgists 2020
Event Details

Conference of Metallurgists hosts Uranium 2020
Together as ONE digital event
From In-person to Digital
Due to the global COVID-19 pandemic, we transformed the 59th conference of Metallurgists into a digital event.
Digital Conference Program
Live Plenary Talks
Video recording presentations
E-Proceedings
Certificate of Attendance
Theme
Emerging Technologies in Materials and Metallurgical Industries. Technologies that were non-existent or immature a decade ago, are being developed/commercialized currently, and are expected to be fully adopted in a decade.
Metallurgy
Sustainable Energy Practices in Metal Processing
Development and Implementation of Novel Extraction Technologies
Best Safe Practices and Catastrophic Risk identification and Mitigation
Processing of Strategic Materials
Materials
Additive manufacturing
Digitization (Industry 4.0)
Accelerated Materials Design
Materials for renewable energy technologies
Organizing Committee
CONFERENCE CHAIR
Mansoor Barati
University of Toronto
SECRETARY
Stephen Corbin
Dalhousie University
TECHNICAL PROGRAM CHAIR,
METALLURGY
Sina Mostaghel
SNC-Lavalin
TECHNICAL PROGRAM CHAIR,
MATERIALS
Jun Song
McGill University
SHORT COURSE CHAIR
Peter Lind
Newmont Mining
SPONSORSHIP CHAIR,
MATERIALS
Mark Kozdras
NRCAN
SPONSORSHIP CHAIR,
METALLURGY
Nils Voermann
Hatch
STUDENT ACTIVITIES CHAIR
Abu Syed Kabir
Carleton University
SHOW MANAGEMENT
Brigitte Farah
Conference Management
Janice Burke
Editorial Coordinator
Victoria Di Woo
Administrative Coordinator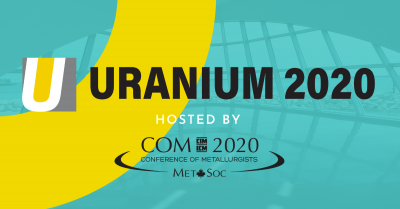 U2020 joins COM 2020 digital conference!
Conference Presentations and Paper Highlights
Uranium geology (exploration techniques, geochemistry, ore deposits & mineralogy)
Uranium production (uranium mining technologies and methodologies, heap & stope leaching)
Uranium mining & milling waste management (decommissioning, remediation & long-term monitoring, tailings & waste rock management)
Practices for respectful conversations about nuclear technology
Uranium, thorium and other nuclear fuels: processing, refining and conversion
CO2 emissions, environmental protection & regulatory issues
Business and economic aspects of uranium extraction & utilization
Canadian Institute of Mining
The Canadian Institute of Mining, Metallurgy and Petroleum is the leading not-for-profit technical society of professionals in the Canadian minerals, metals, materials and energy industries. With over 120 years of history and more than 10,000 members nationally and internationally, being a member has its benefits.
When
Wednesday, October 14 and 15, 2020
Add this to my calendar
Outlook
GOOGLE
Yahoo
iCal