SMC
MINExpo 2021
Event Details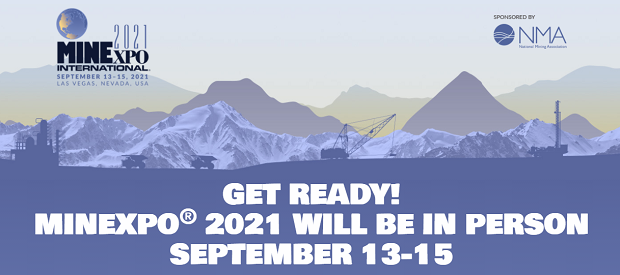 Find what you need today and discover what's new in mining. MINExpo® brings together all the latest cutting-edge equipment, innovations, services and technologies to take your operations to a new level and fuels your long-term growth.
As the world's largest mining event, the show covers the entire industry – exploration, mine development, open pit and underground mining, processing, safety, environmental improvement and more.
Our Commitment to Your Safety
Your health and safety is our top priority. We are committed to following the guidance of the CDC, state and local authorities, as well as the Las Vegas Convention Center — a Global Biorisk Advisory Council Star facility. Below are a few of the safety protocols you can expect at MINExpo:
Accessible handwashing and/or sanitizing systems
Strict enforcement of mask and social distancing mandates
Rigorous employee training to uphold preventative measures and reporting functions
Effective use of approved disinfectants and delivery systems
Rapid response protocols for skilled health and safety professionals
Why Attend?
Because you'll be able to…
Purchase equipment, parts and services from current vendors and discover new sources.
Experience first-hand innovative and cutting-edge products: sensors, advanced instrumentation, AI, robotics, automation, mobile technology, data analytics and more.
Collaborate with technical staff on the show floor to address your operational issues and challenges.
Participate in expert led sessions focusing on today's relevant issues with information you can use now and for strategic planning.
What are some of the products you'll find...
Mining equipment
Safety equipment
Engineering, construction and mining services
Drilling equipment
Materials handling
Processing/preparation
Components & replacement parts
Auxiliary equipment & supplies
Training & HR
Electrical equipment & supplies
Power & power transmission
Many are first time exhibitors with products and services ready for you to discover.
Who Attends?
Because you'll be able to meet...
Production/operations/maintenance personnel—mine managers, operations/production managers, safety/health managers, superintendents, foremen, etc.
Engineering and geology professionals
Environmental staff
Management
Personnel active in the approval and procurement chain
From these industry sectors...
Precious metals
Nonferrous metals
Ferrous metals
Coal
Industrial minerals
Stone mining & quarrying
Sand & gravel
SMC
SMC Corporation of America is a part of a global organization that supports our customers in every industrialized country and is the U.S. subsidiary of SMC Corporation based in Japan. Since its establishment, SMC has been a leader in pneumatic technology, providing industry with technology and products to support automation based on the guiding principle of "contributing to automation labor savings in industry." Over the past 50+ years, SMC's products have become established as a recognized international brand through sales, technical, supply and after sale services in world markets. Sales have grown to achieve a 30% global market share.
When
Monday, September 13 - 15, 2021
Add this to my calendar
Outlook
GOOGLE
Yahoo
iCal