Canadian Institute of Mining
CIM Special Volume 57
Event Details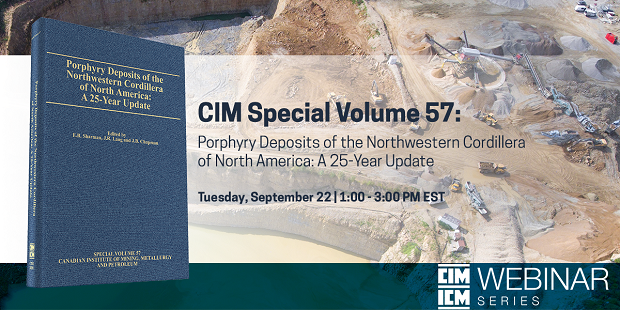 Tuesday, September 22 | 1:00-3:00 PM EDT
Price: Free
Registration link: https://attendee.gotowebinar.com/register/662998223998384141
With the increasing importance of copper in the sustainable future of global society, CIM presents a series of talks and discussion on porphyry deposits, a major source of this green metal in Canada. Topics will include a look back on the last 25 years and potential of the next 25 years of these deposits; a review of porphyry deposits in British Columbia, the Yukon and Alaska; and a summary of the Kerr-Sulphurets-Mitchell camp, one of the most significant porphyry districts defined in recent exploration history. These talks will be of interest to geologists, explorers, miners and any wanting to learn more about this core part of Canada´s mining landscape.
The event also serves as the launch of CIM Special Volume 57: Porphyry Deposits of the Northwestern Cordillera of North America: A 25-Year Update. This publication follows in the footsteps of Special Volumes 15 (1976) and 46 (1995) in providing overview papers on the processes related to the formation of these deposits and detailed descriptions of specific deposits.
Canadian Institute of Mining
The Canadian Institute of Mining, Metallurgy and Petroleum is the leading not-for-profit technical society of professionals in the Canadian minerals, metals, materials and energy industries. With over 120 years of history and more than 10,000 members nationally and internationally, being a member has its benefits.
When
Tuesday, September 22, 2020
Add this to my calendar
Outlook
GOOGLE
Yahoo
iCal