SMC
WEFTEC
Event Details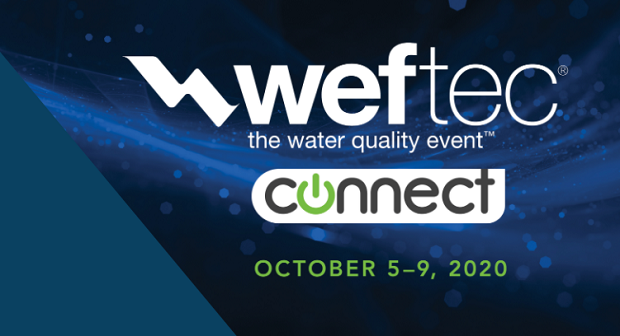 WEFTEC – Connecting the World to Clean Water
WEFTEC is the world's most comprehensive gathering of water quality professionals and thought leaders, featuring the sector's leading conference program, an extensive exhibition showcasing the field's most cutting-edge solutions, and a variety of valuable networking opportunities.
WEFTEC Connect
WEFTEC 2020 will be a fully virtual event on the WEFTEC Connect online learning platform that offers attendees interactive education, an exhibitor showcase, and networking experiences.
Conference & Exhibition
October 5 - 9 | 11:00 am - 4:00 pm EDT
Dedicated Exhibitor Hours: 12:30 pm - 2:30 pm EDT
Why Attend WEFTEC?
Attending WEFTEC is key to staying current and using new information to drive solutions. At WEFTEC you will experience a diverse suite of programming addressing the needs of today's water quality professional.
Learn from the brightest and most innovative minds in water quality
See what's innovative and new in water quality equipment, products, and services
Engage with attendees, speakers, and exhibitors to form partnerships and share experiences, ideas and solutions
Grow your professional network and make new business contacts
Earn valuable education credits
Educational Opportunities
From in-depth pre-conference workshops, technical sessions, and knowledge development forums to pavilion presentations and mobile sessions, WEFTEC offers a variety of ways to learn from and connect with the brightest minds in water quality.
Exhibitor Showcase
WEFTEC is the largest, annual water conference in North America. As such, the exhibition brings together a vast collection of the manufacturers, service providers, and water sector partners sharing their most effective and innovative water quality equipment, products, and solutions. Many exhibitors even choose WEFTEC as the launch point for their new products.
Networking
Meeting or reuniting with other professionals who share your interests has never been easier thanks to WEFTEC Connect's built-in networking functionalities. You will have access to text chat, video discussions, and sophisticated matchmaking.
Continuing Education
Attendees are able to earn valuable education credits by daily participation in Workshops, Technical Sessions and time spent in the WEFTEC Exhibition. Each year, WEF works to obtain approval for WEFTEC on a national level.
Contact Us
Water Environment Federation
601 Wythe Street
Alexandria VA 22314
Phone & Fax
800-666-0206
571-830-1545
703-684-2492
SMC
SMC Corporation of America is a part of a global organization that supports our customers in every industrialized country and is the U.S. subsidiary of SMC Corporation based in Japan. Since its establishment, SMC has been a leader in pneumatic technology, providing industry with technology and products to support automation based on the guiding principle of "contributing to automation labor savings in industry." Over the past 50+ years, SMC's products have become established as a recognized international brand through sales, technical, supply and after sale services in world markets. Sales have grown to achieve a 30% global market share.
When
Monday, October 05 - 09, 2020
Add this to my calendar
Outlook
GOOGLE
Yahoo
iCal