Rajant Corporation
Xponential 2020
Event Details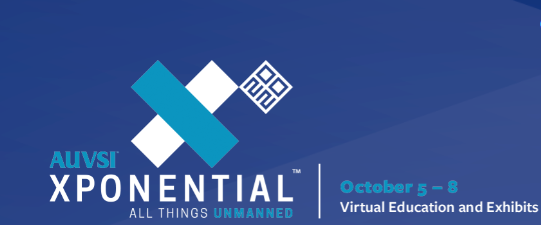 XPONENTIAL 2020NOW A FULLY VIRTUAL EXPERIENCE
As events and activities continue to evolve in response to COVID-19, it will likely come as no surprise to you that we are making one final shift this year. AUVSI XPONENTIAL 2020 will now take place entirely as a virtual event over the planned dates of October 5 – 8! While it was our collective hope that the fall would bring about a safe opportunity for our community to engage in-person in Dallas, the current rise in COVID-19 cases has made clear the need for a safe alternative.
Although we are disappointed that we won't have the opportunity to greet you in a session room or in the XPO Hall, we are excited to fully engage with you through our immersive virtual event platform. This virtual experience enables direct and meaningful interactions with speakers, session content, exhibits, and formal and informal networking just as you'd expect in-person. As a bonus, you'll also have access to recorded sessions, on-demand content, Community Q&A and networking for months after the event concludes.
As we finalize preparations for the event, we want to thank you — our AUVSI community — for your patience, understanding, and flexibility this year. It has been a challenging stretch but know that we are adapting this event with your interests in mind and with our standing commitment to providing an outstanding and valuable experience for all attendees.
FIND YOUR EDGE AT XPONENTIAL 2020
AUVSI XPONENTIAL 2020 is the global stage for everything unmanned — from state-of-the-art propulsion technology, sensors, energy storage and UAS mitigation solutions to what's coming over the horizon in AI, 5G, edge computing and more.
As the largest, most significant event for the unmanned systems industry, you'll find your edge as you explore the latest technology innovations, develop new perspectives as you hear from industry luminaries, and cultivate creativity at special networking events where you will meet some of the most influential leaders in the unmanned and autonomous space.
FIND YOUR COMMUNITY
Technologists, users, policy makers and strategists from more than 20 industries attend XPONENTIAL, the largest, most comprehensive trade show for unmanned and autonomous systems. Here, share data and best practices, learn from and educate others and extend your professional circle.
VIRTUAL PLATFORM WALKTHROUGH
If you are new to AUVSI's digital events, check out the snapshots below to better understand how you'll engage with AUVSI XPONENTIAL 2020. Our virtual platform is easy to use and fully interactive. From the basics of creating your user profile and planning your schedule to connecting with other attendees and visiting the XPO Hall, we've taken care to ensure all the best features of XPONENTIAL are delivered in this new digital experience.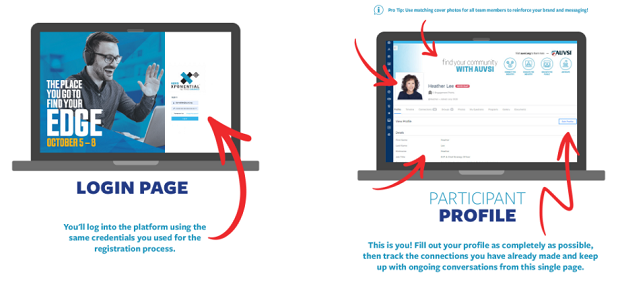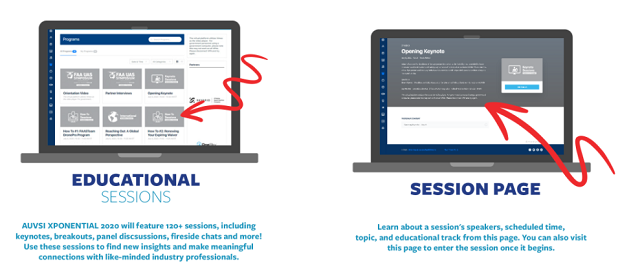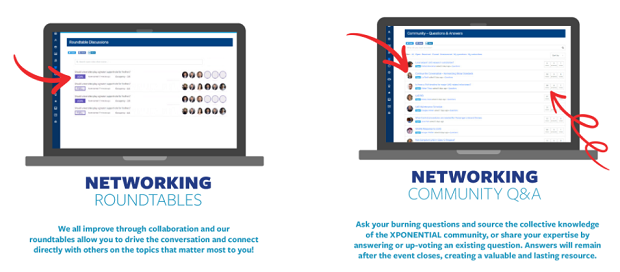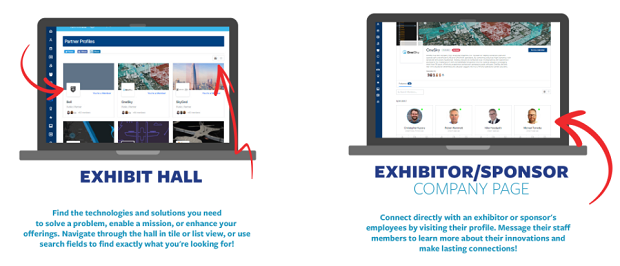 FULL PROGRAM
Monday, October 05, 9:30 AM - 2:00 PM
DRMC: DRONERESPONDERS Major Cities Meeting *** BY INVITATION ONLY ***
Tuesday, October 06, 9:00 AM - 9:15 AM
October 6 Keynote - AUVSI Community Address
Tuesday, October 06, 9:15 AM - 9:40 AM
October 6 Keynote - Dr. Robert Ballard
Tuesday, October 06, 9:40 AM
A Model of Human Machine Interaction for Mission-Driven Robotics
GNSS Receiver Performance Assessment in Varied Multipath Environments with Real-Time Simulation System
Achieving Logical and Temporal Enforcement for Autonomous Systems
Real World Challenges for AI in Vision Applications
Exploiting Data: How to Get the Most From Your Investment
Beyond Line of Sight Communications Solutions
Batteries: Powering the Industry
Using LiDAR Technology: Avalanche Documentation
Building Autonomous Systems That Work
Work Like a Pro: Turning your Unmanned Data into Work Being Done
Thermal Imaging Missions Explained
By-wire Integration and Control for AV/ADAS Research Vehicles
Protecting Mobility: Tesla's Vulnerability Can Exist in all Vehicles
A Simulation Framework for Establishing Detect, Alert, and Avoid Requirements.
Industry and Regulatory Standards Progress for Long Duration Power Systems
Winning Hearts and Minds to Support Law Enforcement Drone Operations
Planning a HAZMAT Response with Unmanned Systems
Global Humanitarian Impacts using Drones For Good
Coordinating Mutual Assistance between Public Safety Drone Teams
Unmanned Systems for Disaster Recovery
Selecting Best UAS Methods to Collect Magnetic Subsurface Structure Mapping Data
Automation of Unmanned Systems Data Acquisition
UAS for Improved Weather Warnings:Forecasting's Future
Our 18-Mile Autonomous sUAS Flight
Automating Structural Inspections
Beyond Teleportation: Towards Explainable and Trusted Autonomous Vehicles
Bio-Inspired Soft Gripper with Mechanical Adhesion
Four Dimensional Auto-routing for Autonomous Flight Planning with Airspace Deconfliction
Tuesday, October 06, 9:45 AM
Public Perception of Unmanned Systems: How to Positively Shape Public Perception by Educating the Media, and Working Together as an Industry
Running an Unmanned Systems Business in an Age of Hype and Inflated Expectations
The Global Perspective on UAS and C-UAS for Policing
Subterranean Autonomy
Tuesday, October 06, 10:30 AM
Regulatory Framework for UAVs – How certification may impact the RPAS industry
Unmanned Systems for Logistics Applications
Automated Bus Consortium
How Partnerships Can Accelerate Safety Culture Adoption
Crime Scene Investigation and Forensic Mapping with sUAS
Tuesday, October 06, 11:40 AM - 12:00 PM
October 6 Keynote - James Burgess and Mark Blanks
Tuesday, October 06, 12:05 PM
Enabling Certification of Autonomous Systems via Formal Verification
Multi-Functional Morphing Propellers for Drones and Urban Air Mobility Aircraft
Maritime Smart Sensors
Flying Safe in Dallas Fort Worth - Meeting the Weather Alerting Needs of Drone and Air Taxi Operators
Development of a sUAS Photography/Videography Course
Tactical model for drone deployment and customer eligibility
Unmanned eVTOL Propulsion Scalability: Thermal Characterization of UAS Motors via Experimentation
Low Altitude Disaster Imagery (LADI) Dataset
UAS and Machine Learning Protect Endangered North Atlantic Right Whales
sUAS Payload AI Recognition of Objects
Hybrid High Altitude Airship: A Novel Approach to the Design of High Altitude Pseudo Satellite
Defensive Crash Avoidance System (DCAS): A New Advanced Driver Assistance System (ADAS)
A Practical Evaluation of DAA Technologies against Emerging Standards
Air Combat With Machine Learning
Toward Establishing An Integrative Resource Optimization Framework for Large-scale Drone Delivery Systems
Militaristic Issues and Limitations of Machine Learning
UAS and Land Surveying
Tuesday, October 06, 12:30 PM - 1:00 PM
Re-imagining the Airspace in an Unmanned World
Tuesday, October 06, 1:00 PM
The Other Drone Audience: Strategies for Public Engagement and Outreach
"Between" Communication Capability - The Most Significant Differentiator for Man/Machine Public Safety
Active Flow Control as a Technique to Improve Fixed-Wing and Rotary-Wing Aerodynamics of UAVs
Challenges in modern safety-critical embedded software
Tuesday, October 06, 1:50 PM
Cutting through the fog of Autonomy – A guide to navigating the coming wave for pragmatic decision makers
Seeding a Blue sUAS Industry
Law Enforcement UAS Operations in Major Cities
Robots Can Save the World, Too: Current and Future Applications Of Autonomous Technologies For Wildlife Conservation
Exceeding Standards Through Education
Tuesday, October 06, 3:00 PM - 4:25 PM
I.D.E.A. (Inclusion + Diversity Enabling Autonomy) Workshop
Wednesday, October 07, 9:00 AM - 9:15 AM
October 7 Keynote - Opening Remarks & AUVSI Chapter Awards/Member of the Year
Wednesday, October 07, 9:15 AM - 9:40 AM
October 7 Keynote - Dr. Marc Raibert
Wednesday, October 07, 9:45 AM
The Aerial Firefighter: A Global Perspective
ASTM Remote ID Standard and the NPRM - Policy and Implementation
Operational Case Study: Fuel Cell Powered Drone
The Unintended Consequences of UAS Technology Innovations
Wednesday, October 07, 10:30 AM
Putting Together the Pieces: Shaping Public Perception
Unmanned Systems for Coastal and Deep Sea Exploration
Selecting the Right Equipment for Your Fire Rescue sUAS Program
M-RTOS – MANNARINO WORKBENCH IDE DEMO
Wednesday, October 07, 11:20 AM - 11:40 AM
October 7 Keynote - Desi Matel-Anderson
Wednesday, October 07, 11:40 AM - 12:00 PM
October 7 Keynote - Timothy Gallaudet
Wednesday, October 07, 12:05 PM - 1:00 PM
NASA's Vision and Role to Enable Urban Air Mobility
Wednesday, October 07, 1:00 PM
Drone Collisions: Myths and Reality
FAA Type Certification for UAS: The New Durability and Reliability Means of Compliance
Fielding UTM Capability to Support Civil Operations
Ultra-High Energy Metallic Lithium Anode Battery and Systems
Pitching the Big Top: How to Master the 3-Ring Circus of Federal Sales
Wednesday, October 07, 1:45 PM
Using a Capabilities Based Assessment Approach to Selecting an Unmanned System
Designing & Constructing Autonomous Naval Ships
Wednesday, October 07, 1:50 PM
Virginia Flight Information Exchange - An Authoritative SDSP
Fire Rescue sUAS Operations in Major Cities
Wednesday, October 07, 3:00 PM
Technology in the Wild: The Intersection of Autonomous Systems and Wildlife Conservation
Future Defining Capabilities At the Battlefield's Edge
Standards to support the UAS industry
Innovative Solutions to Long-Term Battery Safety and Performance in Unmanned and Autonomous Vehicles
Wednesday, October 07, 3:45 PM
Large Scale Testing for Autonomous Systems
Advancing Integration and Public Acceptance of Commercial UAS
Thursday, October 08, 9:00 AM - 9:20 AM
October 8 Keynote - AUVSI XCELLENCE Humanitarian + Public Safety Awards
Thursday, October 08, 9:20 AM - 9:40 AM
October 8 Keynote - Keenan Wyrobek
Thursday, October 08, 9:45 AM
SnotBot - Drones for Wildlife Conservation
Leveraging ADS-B to Enhance UAS Safety
Geospatial Data Production and Delivery Considerations for Concept of Operations Development
Automating Multi-Drone Missions
Software Partitioning as a Flexible, Safe & Cost Effective Path to Certification
Thursday, October 08, 10:30 AM
Mission Critical: Responding to the 2020 Hurricane Season with sUAS
Understanding GPS in Contested Environments
Thursday, October 08, 11:20 AM - 11:40 AM
October 8 Keynote - Lieutenant General Duke z. Richardson
Thursday, October 08, 11:40 AM - 12:00 PM
October 8 Keynote - Dr. Cara LaPointe
Thursday, October 08, 12:05 PM - 1:00 PM
Startup Showdown Finals
Thursday, October 08, 1:00 PM
Remote Pilot Situational Awareness with Mixed Reality Glasses
Safety Goals & Challenges for Self-Driving Technologies
The What, Where, and How on Spectrum for UAS
Taming Disaster: How ASSURE is working to chart the future of UAS for disaster response
Thursday, October 08, 1:45 PM - 2:35 PM
Multi-sensor Drone Detection and AI-based Classification
Thursday, October 08, 1:50 PM
Establishing a Successful Unmanned System Service Operation
Safety, Federalism, and Property Rights
Thursday, October 08, 3:00 PM
Standards for Unmanned Aircraft Systems
Aviation Innovation in the Commonwealth of Massachusetts
International Standard Test Methods for sUAS Performance and Pilot Proficiency
Challenges and Opportunities with Satellite Communications for Unmanned Systems
Charting the Future for Public Safety sUAS Operations
REGISTRATION
Showcare Customer Service
Toll-Free: +1 844-327-5248
International: +1 514-228-3155
XPONENTIAL@showcare.com
Debbie DesRoches
Registration and Housing Manager
+1 571-255-7789DDesroches@auvsi.org
EXHIBIT + SPONSOR
Companies A-L
Mike GreesonSales Account Manager+1 202-497-9812mgreeson@auvsi.org
Companies M-Z
Wes MorrisonSenior Sales & Strategic Accounts Manager+1 571-243-8010wmorrison@auvsi.org
Pavilions and Sales Operations
Alex MannBusiness Operations Manager+1 571-247-7876AMann@auvsi.org
Exhibits Operations
Nicole MattarMeetings Specialist+1 571-255-7795NMattar@auvsi.org
MARKETING AND MEDIA PARTNERSHIPS
Amie CangelosiAccount Director, mdg+1 703-674-5618Amie@mdg.agency
MEMBERSHIP
Melissa BowhayAssociate Director, Membership+1 571-255-7790MBowhay@auvsi.org
PROGRAMMING
Shannon WhitneyManager, Education+1 571-255-7780SWhitney@auvsi.org
Rajant Corporation
Rajant frees all network elements to move, interconnect, and intelligently adapt to change – instantly and without outside intervention – so you can keep mission-critical operations moving.
When
Monday, October 05 - 08, 2020
Add this to my calendar
Outlook
GOOGLE
Yahoo
iCal