Biodisk Corporation
Portable Plants
Big "John" and Little "John"
To facilitate the application of our proven BIODISK wastewater treatment technology in remote applications, we have developed two unique new packages, which we call Big John and Little John. These two applications are used for the treatment of sanitary wastes from up to 333 and 166 persons respectively at construction sites and permanent installations….usually at remote locations.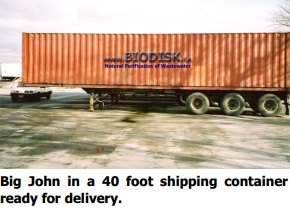 The Big John and Little John packages combine two proven technologies….the BIODISK and the ISO shipping container. The package makes use of our Rotating Biological Contactor (RBC) process and houses it in 40 and 20 foot long shipping containers. On site, the shipping containers become an integral part of the sanitary wastewater treatment facilities.


Combining our BIODISK RBC wastewater treatment process with ISO shipping containers, has proven to have many advantages and benefits over conventional approaches to wastewater treatment:
• Ease of shipping and greater accessibility to remote locations
• Easy, quick set-up requires very little assembly and takes advantage of unskilled or low skilled labour….can be ready for operation in as little as a day after delivery
• Shipping and set-up costs are considerably less than for conventional wastewater treatment facilities
• Operating costs are considerably lower than for other treatment systems
• Power consumption is low
• Low operator skill requirements - operator involvement is limited to preventative maintenance and periodic biosolids withdrawal
• Long term sludge storage
• Totally enclosed systems
• Low odour
• Low noise
• Built-in multi-stage process takes advantage of naturally occurring microbes
• Safe….no open ponds or exposed tanks
• A unique and self regulating process


Big John and Little John provide the "full package" including secondary treatment and effluent disinfection. They also
include all controls and necessary housing.…truly a "Turn Key" design for  a sewage treatment facility in a box.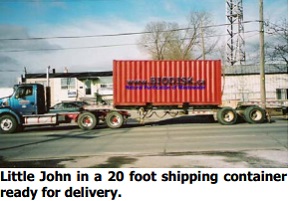 BIODISK Corporation
BIODISK Corp., is an industrial leader specializing in the design, manufacture, installation and operation of wastewater treatment facilities making use of RBCs. The corporation has vast global experience with the successful installation of over two thousand treatment facilities at sites in Canada, USA, South America and the Far East.

BIODISK Corp., will listen to your needs and will work in partnership with you during the complete process of facility design, construction, operation and after care servicing.
• We will facilitate the entire process and will get the job done quickly and efficiently. We will handle all necessary details including drawings and design information required for the works approval by environmental authorities
• The facility construction phase will be simplified by our proven tank design
• We will be there to support you with our after care service which includes:
     ○ System Start-up
     ○ Process Evaluation
     ○ Spare Parts
     ○ Trouble Shooting if Required
 
Process
Our systems use a natural process for the treatment of wastewater utilizing RBCs. The process meets or exceeds effluent requirements as specified by regulatory agencies. The process has many inherent operational characteristics that make it ideally suited for the treatment of domestic wastewater.
 
Our systems discharge to:
• Sub-surface and surface absorption components
• Surface waters
• Intermittent streams
• Storm water management facilities
 
Self Regulating
The treatment process easily accommodates flows ranging from 0 to 100 percent of design. The biomass on the RBC media is directly proportional to the organic material received. The process is self-regulating without supervision.
Source: http://www.biodisk.ca/pdf/Portable_Plants.pdf