Access Mining Services
Coaltrans USA 2015 - 15th Anniversary
SHARE THIS EVENT
Event Details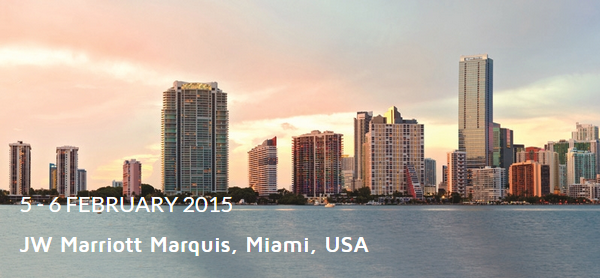 Coaltrans Conferences organises large-scale international coal conferences and training courses in all major coal producing, importing and trading regions.
Why should you attend? Here are 12 great reasons...
• Network with over 350 coal industry professionals
• Hear the latest industry updates and forecasts from an expert speaker panel
• Meet delegates from over 27 countries including China, India, Russia, Germany, Poland, Colombia and Canada
• Attend the renowned Xcoal Networking Reception on the beach
• Meet end-users such as American Electric Power, SunCoke Energy, NRG Energy, Tata Steel and Dominion Generation
• Receive a complimentary copy of the Coaltrans Coal map of the United States
• Cast your vote in the conference session using our Audience Response System
• Arrange meetings with delegates in advance using the Coaltrans App
• Receive a copy of the participant list 2 weeks before the conference
• Meet the exhibitors including Blaschak Coal Corp, Doyle Trading Consultants, BEDESCHI America, Inc and Telestack Ltd
• Join the conversation on Twitter and LinkedIn using the hashtag #CoaltransUSA
• Stay for the weekend and enjoy sunny Miami
Here's what some of our previous delegates had to say about the event…
"Participation was excellent"
"A great event to meet and learn from industry experts"
"Miami is one of the top US coal conferences in my opinion"
"This is a well-organised event that provides a great overview of global coal markets"
John Newman
From consolidation to international communication, coal trading and shipping in the US has seen significant changes, says Kenneth Kisko, principal at COALUSA. He would know - after 35 years in the business and five years of attending Coaltrans USA.
Ahead of the event, we'll hear from businesses on how the industry has changed - and why Coaltrans USA is an important part of the year.
Coaltrans Conferences: How has the coal industry in the US changed since you started your career?
Kenneth Kisko: There has been a consolidation to fewer large producers operating on a vastly improved international communication network that has rapid access to industry information. Financing and shipping logistics play a significant role in contract performance.
Coaltrans Conferences: What kinds of solutions does your business offer?
Kenneth Kisko: COALUSA offers consultation advice regarding structuring international coal and bulk cargo business, metallurgical coal and carbon product origination and related shipping and logistics. We also provide a full range of services regarding design, construction and performance evaluation of bulk handling facilities, freight contracts and shipping options via our partners.
Coaltrans Conferences: What kinds of partnerships are important to you and your business?
Kenneth Kisko: Providing full range of solutions ranging from material selection, transportation, logistics and material handling options based on a long history working in senior management positions for major companies focused on international trade.
Coaltrans Conferences: How would you describe your experience at Coaltrans USA to someone who hasn't attended before?
Kenneth Kisko: Coaltrans USA provides an informative meeting format to effectively and efficiently engage with industry leaders exchanging viewpoints regarding market direction, trends and forecasts.
How do you think the US coal industry changed over the last 15 years? Tell us via Twitter or via our discussion on LinkedIn.
The Coaltrans USA Hall of Fame honours people and businesses who have attended the last five consecutive events. Join Kenneth Kisko and other Coaltrans USA Hall of Fame inductees at Coaltrans USA in Miami on February 5 and 6, 2015.
This content is provided by Coaltrans Conferences for informational purposes only, and it reflects the market and industry conditions and presenter's opinions and affiliations available at the time of the presentation.

When
Thursday, February 05, 2015
Add this to my calendar
Outlook
GOOGLE
Yahoo
iCal