Access Mining Services
Missouri Mine Safety and Health Conference 2015
SHARE THIS EVENT
Event Details

The Missouri Mine Safety and Health Conference is a forum to provide a broad spectrum of information, attitudes, and approaches for improving the health, as well as safety, of all who enter or work in mines and quarries.
Every year top speakers from around the country combined with the experiences shared between the participants from all industry areas make the MMSHC an engaging experience.
The next conference is scheduled for January 15th and 16th, 2015.
The Missouri Mine Safety and Health Conference Committee is an independent, non profit, industry organization. These volunteers are comprised of top industry professionals.
Members are safety profressionals from different mining entities, MSHA officials, Missouri Department of Labor (Director, Division of Mines), Missouri Limestone Producers Association (Executive Director), and executives from varied service, equipment, supply, and support companies. All committee members have extensive experience, daily involvement, and intense interest in safe and healthy mining operations. Click the link to see the complete list of the MMSHC Committee Members.
Contact Us
Mailing Address: P.O. Box 1725,
Jefferson City, MO 65102
Phone 573-635-0208
Fax 573-634-8006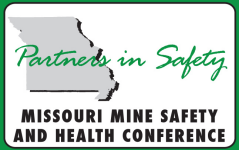 When
Thursday, January 15 and 16, 2015
Add this to my calendar
Outlook
GOOGLE
Yahoo
iCal