Access Mining Services
Mineral Exploration Roundup 2015
SHARE THIS EVENT
Event Details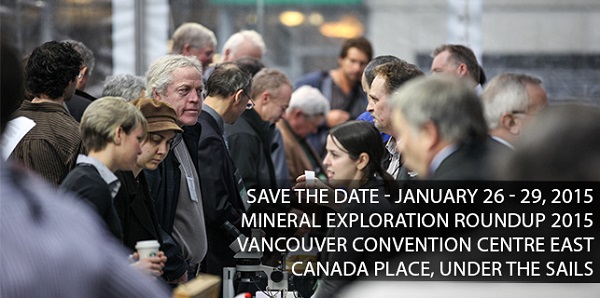 This year's conference marks an important milestone for Roundup as we move into our new home at the Vancouver Convention Centre East.
AME BC's Mineral Exploration Roundup conference brings together prospectors, geoscientists, investors, suppliers and those interested in the mineral exploration industry every January in Vancouver. And over the past 31 years of the conference, Roundup's value to the mineral exploration community has increased. Mineral exploration has always been rooted in prospecting and geoscientists. However, over time, declining commodity reserves, increasing competition for investment dollars and awareness of the need to build a social licence with Aboriginal Peoples and communities have all presented opportunities – and every year, Roundup is a venue to keep up to date on new best practices and solutions.
Mineral Exploration Roundup 2015, with its theme "Intelligent Exploration", will highlight our renowned Technical Sessions, Core Shack, Prospectors' Tent and Map Tent, where you will learn about the latest discoveries and the strategies used to uncover mineral deposits. New this year are our best-practice Showcase Sessions, which will underscore the growing importance to our industry of Aboriginal engagement, corporate social responsibility, health and safety, land access and use, human resources and government relations. We also encourage you to take part in special events including our new Discovery Day, featuring public-interest talks relating to our industry and activities for the whole family. Finally, we invite you to enjoy our expanded trade show, various networking events and the always-popular short courses and field trips where you will build lasting contacts with colleagues and suppliers.
Join us at AME BC's Mineral Exploration Roundup 2015: Intelligent Exploration, from January 26 to 29, 2015, under the Canada Place sails at the Vancouver Convention Centre East.
Contact Us
Office Address:
Association for Mineral Exploration British Columbia
Suite 800 - 889 West Pender Street
Vancouver, BC V6C 3B2

For General Inquiries:
Phone: 604.689.5271
Fax: 604.681.2363
Email: info@amebc.ca

For Media Inquiries:
Jonathan Buchanan
Director, Communications & Public Affairs
Phone: 604.630.3923
Email: jbuchanan@amebc.ca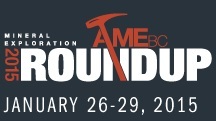 When
Monday, January 26 - 29, 2015
Add this to my calendar
Outlook
GOOGLE
Yahoo
iCal